>
Company
>
News
>
Photos
First iTNS Mobile 911 Solution to Prince George's County, MD
Carolina Sat Net Solutions delivers first iTNS mobile 911 solution to Prince George's County, Maryland
The mobile self-pointing satellite antenna and ITNS networking package installed by Carolina Sat Net Solutions, (www.csatnet.com), is being used by Prince George's County to extend their communication reach and 911 call center processing to remote locations within Prince George's County and surrounding areas utilizing a specially modified RV that is now outfitted as a fully functional mobile 911 Public Safety Communications Command Center. The unit has the capability of receiving and making 911 calls over the satellite link using VOIP and is also connected via the satellite to the cities network for access to their CAD dispatching services, which is updated with real time information as it comes into the 911 center. This capability will allow them to extend the 911 service offsite, and provide additional support and calling capacity. In the event the center or county network is not available. Prince George's County has a back-up system in place to still receive 911 services and internet connectivity, through sources outside of the affected area through the satellite network, giving them total redundant mobile communication to offer life saving 911 services to their citizens in the event of a major emergency.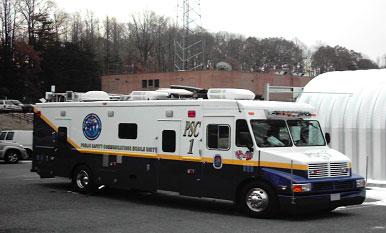 "Carolina Sat Net Solutions was honored to have been chosen by Prince George's County for the purchase and integration of the mobile satellite system that delivers all the communication needs of the mobile 911 center. We especially enjoyed working with the counties engineers on the project, which was a huge success and will provide a road map for other cities to follow in developing redundant back up communications to critical information systems, for both emergency and business type applications." said Brian Clark, President of Carolina Sat Net Solutions Inc.
"It was a great solution for Prince George's County, we especially enjoyed the time we spent with all the different departments and key personnel, which help aid us in designing the communications package they were seeking. Communications is such a vital part of the 911 system, and the ability to respond quickly to a major emergency has become a necessity." said Charlie Fain, CEO for Carolina Sat Net Solutions, who assisted during the installation.
NEWS RELEASE

Contact:
Media Relations
Carolina Sat Net Solutions
info@csatnet.com